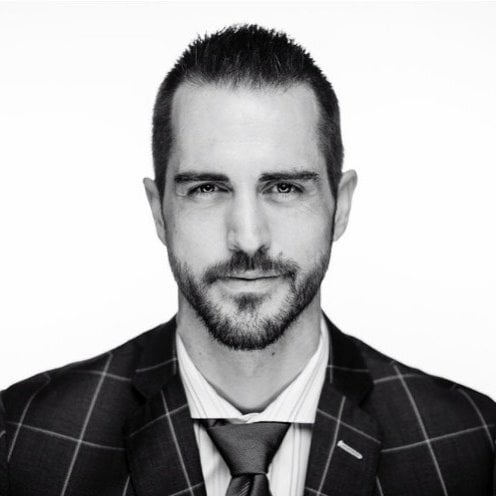 2020 was a record-breaking year in almost all categories of fundraising and exits…
Which, in turn, appears to have set the stage for 2021 to be a record-smashing year across what seems like all categories.
In exits… venture backed companies have been dominating headlines with record numbers of IPOs.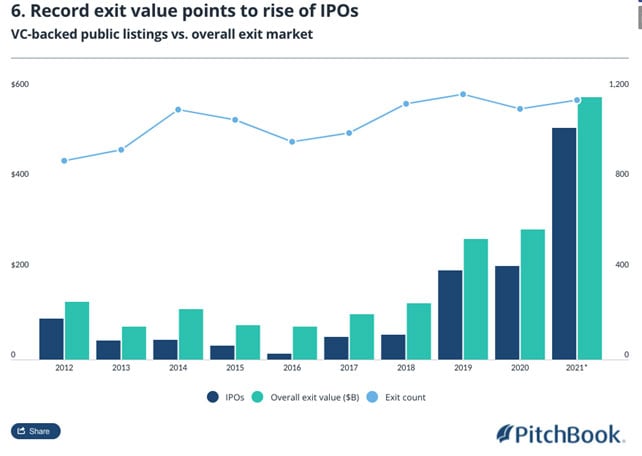 In 2020, we saw big-names – like DoorDash and Airbnb – go public. In 2021, we've seen companies like Affirm, Robinhood, Toast, LegalZoom, Roblox, Coinbase, Warby Parker, and SoFi make the jump.
And this smattering of exits means there's plenty of investment capital looking for somewhere to go. That's why it's no surprise to see…
In fundraising… venture capitalists are closing in on $100 billion in fundraising (vs the $85bn record set in 2020) and have an estimated $22 billion of "dry powder" ready to deploy.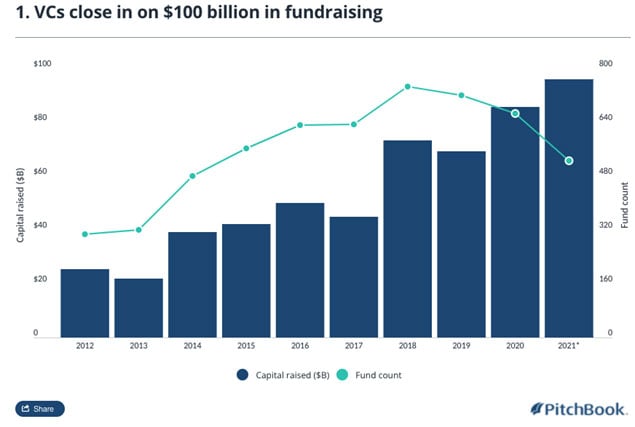 In funding… We are on track to hit $454 billion invested through the first three quarters of 2021. In 2020, it was a mere $332 billion invested globally across all funding stages.
In unicorns… we've never had so many private companies cross the $1bn threshold.
So far this year, 413 new companies have joined the Crunchbase Unicord Board; the list has swelled to over 1,000 companies, collectively valued north of $3.4 trillion.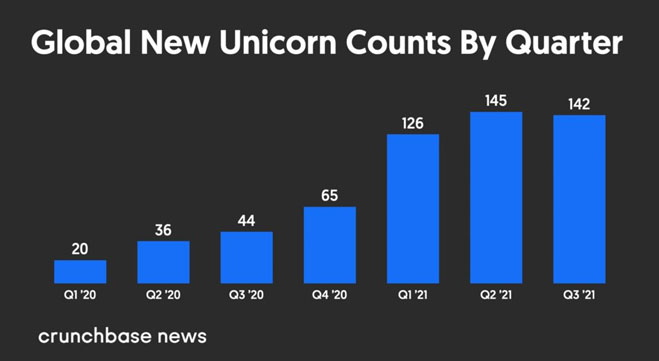 With many growth companies raising funding at an unprecedented pace, the IPO market shows signs of remaining strong through the end of the year and into 2022 (however, there's no guarantee it will).
But there's one sector pretty much no one is talking about that I want to bring your attention to today.
The Explosion of MedTech M&A
MedTech dealmaking started with a bang in 2021.
With elective surgeries dramatically declining in 2020, device makers were hesitant to spend money.
However, as elective surgeries started to rebound in late 2020, companies flush with cash decided to move fast in 2021.
With at least 10 deals announced in January alone, the MedTech industry notched 33 deals worth $19bn in the first half of 2021 (vs 25 deals worth $34bn in all of 2020).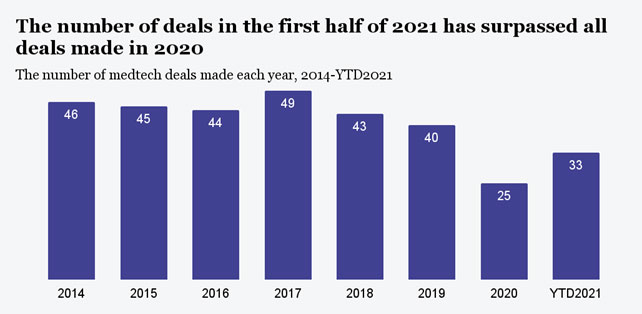 Scott Tuhy, lead medical device analyst for Moody's Investor Service, said the diversity of deals made during the first six months of the year has been a noticeable trend, with M&A happening across multiple sectors.
"We've seen transactions in diagnostics, cardiology, dental," Tuhy said. "There were certainly times in the past where deals were often focused on one sector, but what really just stood out is that we've seen such a broad array of transactions."
Here's a look at some of this year's notable (and diverse) MedTech M&As.
To make the 2021 MedTech M&A landscape even more interesting, the largest MedTech's have billions of dollars in cash stockpiled.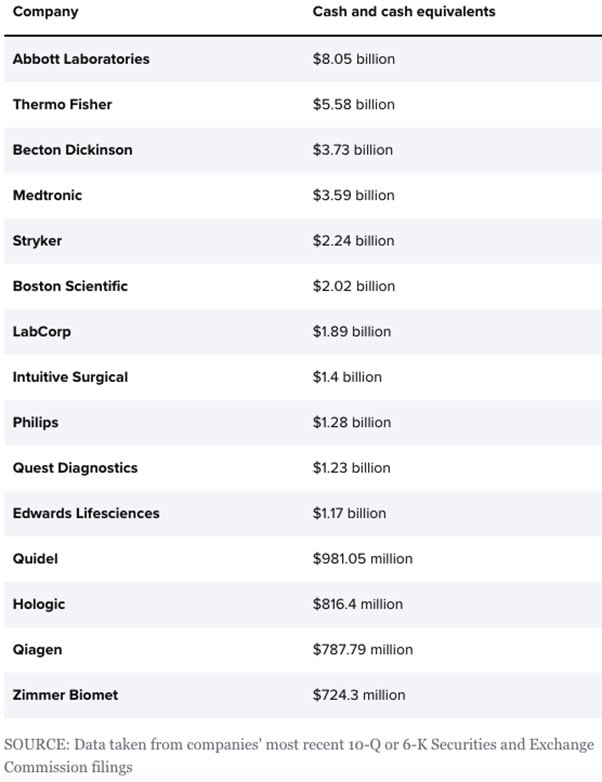 It's anyone's guess as to how Q4 will shape up. But for investors interested in MedTech, it seems there's never been a better market than right now for M&A.
Sincerely,

Jake Hoffberg – Publisher
Equifund