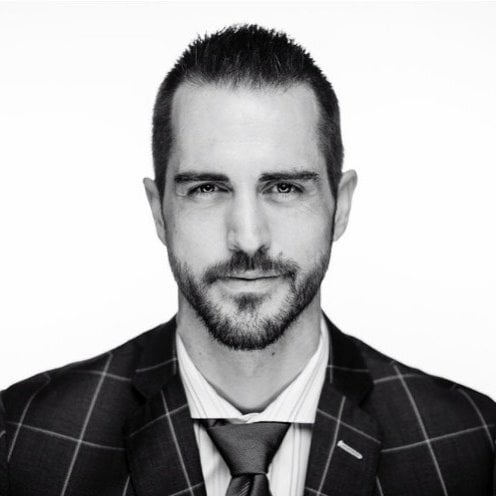 Something strange is happening around the world…
For more than 70 years, this "undercover epidemic" has caused hundreds of millions of people to suffer from the leading cause of disability in the world…
But thanks to a breakthrough medical technology, we could completely change the options available to the 266 million people each year who develop degenerative spine disease…
And potentially save Americans more than $434 billion per year in costs associated with back pain.
What's the Secret Behind This Breakthrough MedTech?
It all has to do with an elegant solution to a decades old problem called: Spinal fusion.
And just in case you're not an expert on spinal surgery – or you don't know exactly why spinal fusion is critical to success – here's a quick primer.
Spinal fusion permanently connects two or more vertebrae in your spine to improve stability, correct a deformity or reduce pain. Your doctor may recommend spinal fusion to treat:
Deformities of the spine. Spinal fusion can help correct spinal deformities, such as a sideways curvature of the spine (scoliosis).
Spinal weakness or instability. Your spine may become unstable if there's abnormal or excessive motion between two vertebrae. This is a common side effect of severe arthritis in the spine. Spinal fusion can be used to restore spinal stability in such cases.
Herniated disk. Spinal fusion may be used to stabilize the spine after removal of a damaged (herniated) disk.
The logic behind a spinal fusion is simple: stop the motion, stop the pain.
To do this, surgeons place bone – or a bonelike material – in the space between two spinal vertebrae.
In practice, this means filling the space between the vertebrae with something called "bone graft," which is put in between the vertebrates to "prime" the body to grow new bone and successfully fuse the spine.
As the European Journal of Orthopedic Surgery & Traumatology noted in a study:
"The fusion rates significantly increased as the amount of bone graft increased"
Which brings us to the critical question us savvy MedTech investors must answer…
If the best way to increase the odds of success is to deliver more bone graft, what's the best way to do that?
But before we can answer that, we have to take a step back and talk about how we got to where we are today.
The Evolution of Spinal Surgery
During spinal surgery, bone grafting plays a vital role in promoting bone healing.
Bone grafts have been used to treat dental and orthopedic injuries since ancient times. Mayans used jadeite, gold, and turquoise for dental inlays, and ancient Romans used gold for dental implants.
The first known use of an autograft (bone from the patient's own body) was in Germany in 1821.
The first use of an allograft (from other donors) was for a humeral defect in a 4-year-old boy in 1879 by Sir William MacEwen.
Then, in 1921, something called an "iliac crest graft" was invented, where it was used for the treatment of a fractured mandible (i.e. the lower jaw).
However, to get the raw material for the graft, the patient requires another surgical procedure – usually harvesting a piece of bone from the hip – which can increase risk factors, including infection and pain.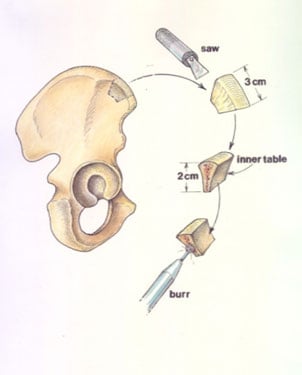 An iliac crest graft is a bone graft in which a piece of bone is removed from the upper region of the pelvis of a patient and implanted into another site within that patient's body.
However, prior to the late 1970s, bone grafts for interbody fusions had a major problem – they tended to collapse or fragment, requiring reoperation!
The solution was an interbody "cage" to help take the load of the spine.
Orthopedic surgeon George Bagby first created the ''Bagby Basket,'' a perforated stainless steel cylinder, for use in horses.
Other spine surgeons developed their own versions of the Bagby Basket for use in humans.
Their first experimental use of titanium interbody cages in humans was in 1989, and the first successful use of standalone lumbar cages was in 1992.
The progress made in interbody devices also contributed to the next major leap in spinal surgery… minimally invasive surgeries.
The major breakthrough in minimally invasive spine surgery was the improvement in microsurgery tools and understanding of human anatomy.
This allowed for the "Wiltse approach", whereby the surgeon could gain access to the spine without slicing any muscles.
This meant faster recovery, reduced risk of infection, and a lower chance of accidentally damaging surrounding nerves.
Today, advancements in robotics technology are helping drive further progress in minimally invasive surgeries in general.
The minimally invasive surgery market was already worth $36.5 billion in 2018…
But it's expected to hit $58.2 billion in 2024.
Demand for these less-risky minimally invasive surgeries are surging, especially as the number of people over 65 continue to increase.
And they are a key driver behind the growth of the quickly-expanding $75 billion Ambulatory Surgery Center (ASC) market.
But the success rate of current minimally invasive spinal surgical techniques aren't great…
Patients are afraid of spinal surgery, and rightfully so.
For most patients considering minimally invasive spinal surgery, the failure rate is uncomfortably high:
A 25% to 35% chance of failing to achieve "spinal fusion."
This is the number one reason most spinal surgeries fail.
When this happens, the most common result for the patient is equal – or greater – levels of pain than before…
Plus, the likelihood of additional surgeries (at a jaw-dropping estimated average cost of $135,000 per procedure).
A 10% to 40% chance of being diagnosed with Failed Back Surgery Syndrome (FBSS).
FBSS is defined by the International Association for the Study of Pain as "lumbar spinal pain of unknown origin either persisting despite surgical intervention or appearing after surgical intervention for spinal pain originally in the same topographical location."
This means that even if spinal fusion is successful, it doesn't guarantee a reduction in pain.
In some cases, it could actually make existing pain worse, or create new pain that wasn't there before.
One study found that 78% of patients with FBSS were "unable to work normally and had poor quality of life."
An increased likelihood of subsequently developing an opioid addiction.
More than one fifth of patients with opioid addiction were associated with FBSS (Societal cost: Estimated at anywhere from $78.5 to $504 billion a year).
A growing chance of unintended side effects
Because the failure rate of minimally invasive spinal surgery is so high, doctors have looked at the use of chemical adjuvants and hormones such as rhBMP-2 to supplement the procedure.
Not only is this expensive, it has its own set of serious side effects: forming too much bone, causing nerve inflammation, impotence and even cancer.
This high failure rate is one of the reasons why minimally invasive surgery is not used as often in the more than 352,000 spinal fusions performed each year.
It also means more than a thousand people a day choose to play "Russian Roulette" with their back pain, and by extension, quality of life.
But thanks to this revolutionary medical technology, patients are seeing a 92% chance of achieving a successful spinal fusion compared to the 75% rate provided by other modern techniques.
It's the level of improvement that can have a major impact on the patient decision-making process… and as a result, change the trajectory of an entire industry.
Sincerely,

Jake Hoffberg – Publisher
Equifund