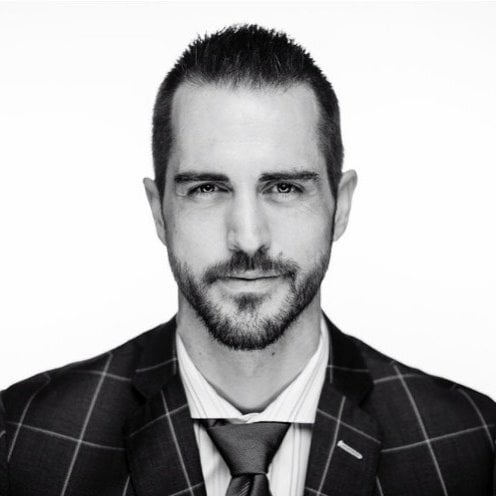 If you've read our guide "How to potentially 5x-7x your Pre-IPO returns," you already know that Sourcing, Selecting, Supporting, and Selling are the four pillars of investing.
But there's a crucial "fifth element" to investing you must understand when evaluating deals…
Where are we in the business cycle?
Today, we'll explore a useful "meta framework" for analyzing the current state of the MedTech markets (and what that could mean for Kleiner Device Labs as they continue to build towards a potential exit).
"Winning the Merger Endgame: A Playbook for Profiting From Industry Consolidation"
The authors research – based on an in depth analysis of 1,345 large mergers by 945 acquiring companies – revealed some rather shocking conclusions known as "The Five Maxims of the Endgames Curve"…
Industries tend consolidate and follow a similar course
Merger actions and consolidation trends may be predictable
The Endgames curve can be used as a tool to strengthen consolidation strategies and facilitate merger integration
Every major strategic and operational move should be evaluated with regard to its Endgames impact
Endgames positioning offers a potential guide for portfolio optimization
Here's how their model works in practice…
Once an industry forms – or is deregulated – it will likely move through four stages of consolidation: Opening, Scale, Focus, and Balance & Alliance.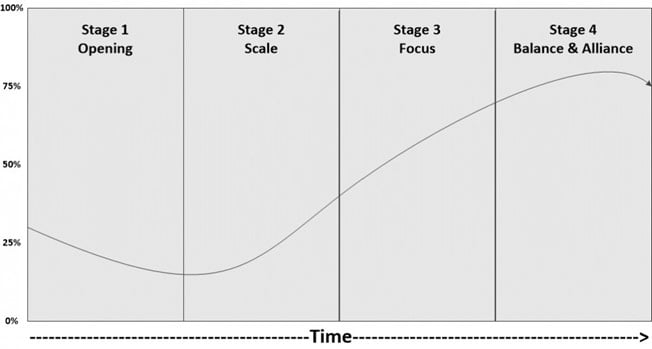 By appropriately identifying the stage, understanding the defining traits and behavior of our stage, we can better understand – and potentially predict – market behavior and trends.
Stage 1: Opening – There is little or no market concentration and the first consolidators may appear. Newly deregulated, start-up, and spin-off sub industries occupy this space
Stage 2: Scale – Size begins to matter. Major players begin to emerge and tend to take the lead in consolidation. Concentration rates can be as high as 45%.
Stage 3: Focus – Successful players extend their core businesses, exchange or eliminate secondary units, and continue to aggressively outgrow the competition
Stage 4: Balance & Alliance – a few players tend to dominate industries with consolidation rates as high as 90% among the top three companies. Large companies may form alliances with other giants because growth at this stage is more challenging.
According to the authors, "an industry will take on average 25 years to progress through all four stages; in the past it took somewhat longer, and in the future we expect it to be even quicker."
Furthermore, they provide an interesting analysis of the Global Healthcare industry at the time.
The authors concluded the industry as a whole was transitioning from Stage 2 to Stage 3.
In doing so, each company was experiencing the challenges of this transition, namely "slow growth, difficulty with patent expirations, plummeting share prices, margin pressures from large competitors, and the constant threat of being an acquisition target."
As an interesting example, they suggest Johnson & Johnson – despite challenges in it's core pharmaceutical business – diversified it's portfolio by acquiring and growing businesses in the medical equipment industry (Stage 2 at the time) and biotechnology (Stage 1 at the time).
With this in mind, let's fill in the timeline from 2002 until today (and how it's changed the M&A landscape for MedTech).
During the late 2000's and early 2010's, the medical device industry experienced increased acquisitions of undeveloped technology patents & IP.
Why? Because as noted earlier, when an industry is transitioning from Stage 2 to Stage 3, one of the challenges is dealing with patent expirations.
While we don't have the time to dive deep into patent strategies – and the creative ways they can be extended and defended – generally speaking, a patent lasts for 20 years.
But once the patent expires, the company's government protected products are now exposed to greater competition.
Acquiring promising new IP enables development of next generation products while also bolstering freedom to operate (FTO), and protection against frivolous infringement lawsuits "Patent Trolls".
Interestingly enough, Dr. Kleiner successfully sold several patents to a major public company for a significant sum in 2012.
But after acquiring a patent outright, an acquiring company still has the task of actually developing the device, clearing it with regulators, collecting clinical data on its efficacy, and then fully commercializing the patented technology.
For this reason, the MedTech industry has moved away from buying unfinished products and undeveloped patents in exchange for finished products with patent defense.
Then, according to a 2013 article published by the Medical Device + Diagnostic Industry (MD+DI)
"If you think about the industry end markets are not growing anymore," says Glenn Novarro, senior analyst at RBC Capital Markets, in a recent interview.
"When I started doing this 14, 15 years ago, ICD, spine, stents, these were all double-digit growth markets and pricing would go up every year. Now pricing goes down every year and units are flat to low single digits and if you add it all up, these markets are flat to down."
This – on top of fears that the FDA 510(k) process may change – encourage companies to seek growth through acquisition vs innovation.
Instead of buying patents, they wanted to acquire fully developed products that have already cleared regulatory hurdles, have clinical data, and ideally partial commercialization.
This, in turn, began to drive up valuations and deal size; the more risk reducing milestones a device has cleared, the higher valuation it can command.
And for our Equifund members who have invested – or are considering an investment – in Kleiner Device Labs, it may provide context for where we are in the Endgame curve (as well as potential exit strategies).
This year, we've seen some rather interesting spin-offs in the medical device category…
On Feb 5th, 2021, Zimmer Biomet announced they are spinning out their dental and spine business into a new publicly traded company called ZimVie.
On March 4th, Colfax (NYSE: CFX) announced its intention to separate its fabrication technology and specialty medical technology businesses into two differentiated, independent, and publicly-traded companies.
On November 9th, General Electric (NYSE: GE) announced plans to divide the conglomerate into three companies; aviation, health care and energy.
On Nov 12th, Johnson & Johnson (NYSE: JNJ) announced plans to spin off it's consumer health division (which sells products like Listerine) to focus on it's pharmaceutical and medical device business (including orthopedics) – which is on track ​​to generate nearly $80bn in sales this year.
By definition, these spin offs seem to indicate we may be in Stage 3: Focus…
And perhaps more relevant for investors interested in Kleiner Device Labs, 2022 might open up several interesting strategic investments and potential exit opportunities.
Sincerely,

Jake Hoffberg – Publisher
Equifund