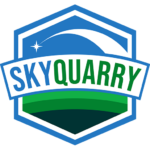 Are you a current or prospective investor in Sky Quarry? Do you have a question about the offering?
Below is a list of the most common questions investors ask. You can also view the Sky Quarry offering page here.

What is Sky Quarry?
Sky Quarry is a "Clean Tech" company dedicated to solving the environmental problems caused by waste asphalt shingles (WAS) – which currently cover ~80% of all residential roofs in America.
For investors looking to invest in companies addressing climate change, recycling waste asphalt shingles presents an opportunity to not only remove hydrocarbons from the environment and impact climate change…
But to do it in a way that may support a sustainable recycling market and potentially generate returns for investors.

How do I invest?
Create your free account with Equifund by using this link: https://equifund.com/register/skyquarry
You will need to enter your name, email address, and create a password. Once you do this, you will receive an email from us asking to confirm you want to open an account. Please open this email and click the confirmation link in the email.
Once your account is open, go to this page and click the "invest now" button.
PLEASE NOTE: We CANNOT process any investments over the phone. The only way to complete your investment is through the online portal.

When is Sky Quarry going public? What kind of returns should I expect to receive?
Although management has indicated their desire to eventually take the company public, there is no guarantee that it will ever complete an IPO, or otherwise generate positive returns for investors.
This offering should be considered high risk. Companies seeking capital through Regulation A+ Offerings tend to be in earlier stages of development and have not yet been fully tested in the public marketplace.
There is the potential for loss of some, or all, of the principal invested.
There is also a lack of liquidity since there is no secondary market for these securities, there may be holding period requirements, and investors should have a tolerance for a long-term investment time horizon.
These securities are not FDIC insured and have no bank guarantee.

How do I sell my shares if the company doesn't go public?
There is currently no established secondary market for Sky Quarry, Inc.

What is the minimum investment?
$500 (or 400 units). Each Unit you purchase contains one share of the Company's common stock (a "Common Share"); and one Common Share purchase warrant (a "Warrant") to purchase one additional Common Share (a "Warrant Share") at a price of $2.50 USD per share, subject to customary adjustments, over a 36-month exercise period following the date of the issuance of the Warrant. These warrants are not transferable or tradable.

What is a warrant?
A Warrant is a contract between the Issuer (i.e. the company) and the Investor (i.e. you) that grants the option to buy more shares – at a pre-negotiated price (the "exercise price" or "strike price") – for a specific period of time (the "expiration date").
For more information on how to execute your Sky Quarry warrants, please click here for instructions.

Can I buy shares using my existing brokerage account?
No, you cannot purchase shares using your existing brokerage account. Sky Quarry is a private company and has no ticker symbol.

Can I invest with my IRA?
As long as you have a Self Directed IRA, you can invest using your retirement funds on the Equifund platform. Please contact your custodian to confirm that you can invest in Regulation-A+ offerings.
If your IRA provider requires additional information regarding Sky Quarry, please have one of their representatives contact Jake Hoffberg at [email protected] for documentation.

Can I invest as an individual and transfer shares to my retirement accounts?
No, you cannot. All purchases must originate from your IRA (or other retirement accounts).

Can I invest using my trust?
Yes, you can invest using your trust. Please note that we will need to collect additional information to complete the KYC/AML process.

Can I invest using a corporate entity (i.e. LLC)?
Yes, you can invest using a corporate entity. Please note that we will likely need to collect additional information to complete the KYC/AML process:
A signed operating agreement, articles of incorporation, certificate of formation or by-laws that list the associated person for this investor.
Proof of address dated within the last 90 days (i.e. bank statement, utility bill, or other similar bills).
Proof that the company is active and in good standing.
Verification of the EIN with an SS-4/IRS for verification.
In the event we need additional information, we will send you an email with the document request.

Do you accept Non-US investors in this offering?
Yes, Sky Quarry is accepting investments from both US and international investors.
However, international investors will need to go through additional identity verification before their investment can be complete.
Please be prepared to submit a government issued identification and proof of address that is within 90 days after signing your subscription agreement.
When you are asked to enter your Tax Identification Number (TIN), please enter whichever number you use to file your tax returns in your country of residence.
If you currently live in the US, but are not a US citizen, please enter whatever number you use to file your US tax returns.

Why do you ask for my social security number?
In order to process your investment, we are required – by law –  to follow all "Know Your Customer" (KYC) and "Anti-Money Laundering" (AML) compliance protocols.
In order to verify your identity, we have to collect a variety of Personal Identification Information (PII); this includes things like your social security number, driver's license, passport, proof of address, and other documentation.

Why do you charge a $24 transaction fee?
In order to process your investment, we are required – by law –  to follow all "Know Your Customer" (KYC) and "Anti-Money Laundering" (AML) compliance protocols.
For the purposes of this verification process, Equifund, LLC charges a non-refundable $24 transaction fee to cover the baseline costs associated with KYC/AML.
We understand this $24 fee might be inconvenient for smaller-dollar investors to pay versus a percentage-based fee. However, a percentage-based fee unfairly penalizes larger investors.
We refuse to turn our compliance fees into profit centers, and instead choose to be transparent about the true cost of compliance we bear and ask the investor for their understanding in the matter.

What forms of payment do you take?
The investor may remit payment for shares via ACH, Wire, or by mail via check/money order. Please be advised that different payment methods take different amounts of time to clear.
Wires — 24 hours (one business day) following receipt of funds;
WARNING for International Investors: you may be subject to additional wire fees. Before sending money via wire, please check with your bank to see if you will be charged an additional "Intermediary Fee"
Checks — 10 days following deposit of funds to the Escrow Account;
ACH — 10 days following receipt of funds;
Credit and Debit Cards – 24 hours (one business day) following receipt of funds. We DO NOT accept Discover or American Express. We DO NOT accept any credit cards that have any association with cryptocurrencies.
Please be advised that this could have an impact on when your Subscription Agreement can be executed and your shares issued.

Why am I getting an error code when I use my credit card?
If you are getting a "Do Not Honor" code when trying to use your credit card, one of two things could be happening.
First, we DO NOT accept AMEX, Discover, or any card offering bitcoin rewards (i.e BlockFi). We only accept Visa and Mastercard.
Second, your bank is blocking your transactions and you will need to call them.
Please try a different credit card or a different method of payment (ACH or Wire).
(Please note that Non-US investors have the most problems when using credit cards. We recommend using ACH or Wire for international investors.)
If you are getting the error code "Restricted Card – Fraud Avs Filtering Service"  it means one of two things has happened: 
The address you used to fill out the subscription agreement did not match the address (or potentially other information) of the credit card used

There was an issue with the CVV number (or other security feature). 

If you'd like to learn more about this error code, please read this article here: https://durangomerchantservices.com/understanding-avs-cvv-declines-authorizations/
Based on our understanding, this issue will resolve itself in 5-10 days… and during that time, there is nothing we can do on our end to reverse or refund the charges. 
We apologize for the inconvenience and wish there was more we could do. 
However, with that said, we still have not received funds from you and cannot complete your investment until we do. 
Please consider paying using ACH or wire.

I'm having trouble signing the subscription agreement. What should I do?
When you reach the next-to-last step in the "Invest Now" process, you will be asked to sign the subscription agreement. To sign electronically, please scroll down to the bottom of that window and type your name in the box, then hit the "next" button.
Once you do this, you will be taken to the final page where you will be given instructions on how to send funds

Where do I view my investment once it's been complete?
All of your investments on the Equifund platform are located in the "My Investments" tab, which you can find by clicking here. 

Why isn't my investment showing up in my dashboard?
Please email [email protected] if one of your investments is not displaying in your dashboard.

Why does it say my investment cannot be processed in the My Investments dashboard?
As a regulated portal, Equifund must undertake identity verification and anti-money laundering checks on each investor and investment.
If you see this error notification, please contact [email protected] so we can complete the identity verification process.

Why is my investment showing "Funds Not Received" but money has been withdrawn from my bank account or charged to my credit card?
In certain cases, it can take up to 10 days for funds to arrive in escrow. Once funds have been "cleared," your funding status will be updated.
If after 10 days there is still a problem, please contact [email protected] for further assistance.

Do I get physical stock certificates?
No. You will not get physical stock certificates as part of this offering. All shares are recorded in "book entry" with the transfer agent, Colonial Stock Transfer Company.

What happens if I need to change any information on my subscription agreement?
If you find an error in your subscription agreement BEFORE the shares have been issued, please contact [email protected] to make corrections.
If you need to change any information AFTER the shares have been issued, you will need to contact the transfer agent, Colonial Stock Transfer Company.
Here is the transfer agent's contact information: Kalysha Chandler – [email protected]

When does this offer close?
The Offering will terminate at the earlier of:
The date at which all Units offered have been sold
September 29th, 2022
The date at which the offering is earlier terminated by the issuer at their discretion.