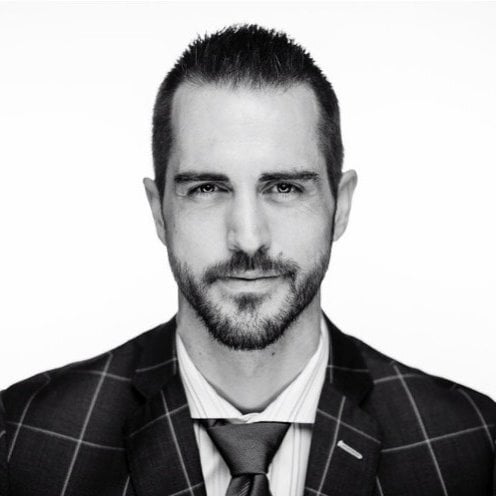 No one on Wall Street sees it coming…
Venture capitalists are pretending it's not real…
And none of the so-called "masters of the universe" can stop it from happening.
Over the next five years, retail investors are going to transform the private financial markets in ways most people can't possibly imagine.
And if you're willing to be one of the few investors who learns how private market investing really works…
You could put yourself in a prime position to take advantage of what I believe is the most important "Mega Trend" in all of investing:
The "Retail"ization of Private Markets
Most investors have no clue that – over the past 30 years – trillions of dollars have flooded out of the public markets and into the private markets.
It's why more and more companies have been staying private…
It's why retail investors have been locked out of some of the most exciting growth companies they'd have normally had access to a few decades ago…
And it's why the best returns over the past 20 years have not come from companies listed on the public stock exchanges.
They've come from a normally "off limits" part of the market that has delivered some of the biggest returns in history.
See this chart?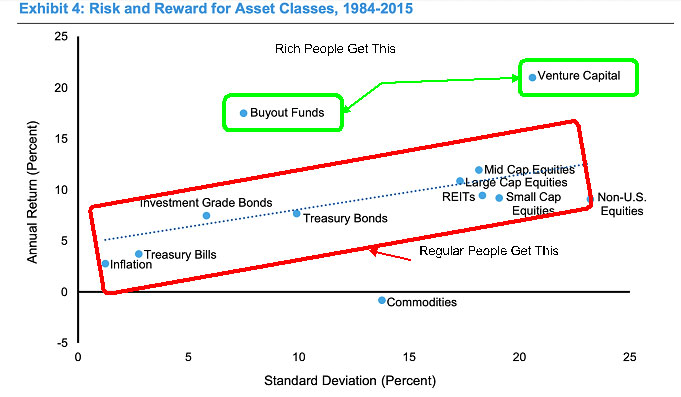 It shows something called the "Risk:Reward" ratio for all asset classes from 1984 – 2015.
As a general rule, in order to get more rewards, it requires taking more risk.
In the public markets, the "Risk:Reward" ratio is usually "priced in" to the market. Theoretically, as people buy and sell shares of a company based on all known information, the price should reflect it's true "risk adjusted return" profile.
Of course, some markets are more easily manipulated than others. But generally, in the public markets, it's highly unlikely you'll find any "free lunches" that have low risk, high return…
But if you're a typical retail investor who is investing in the public markets as a retail investor (the red box), you have essentially no "edge" in the marketplace.
But when you're rich, you get access to asset classes in the green box that offer more reward for the same amount of risk…
Private Equity (buyout funds) and Venture Capital.
For more than 80 years, this asset class has been off limits to retail investors.
But in August 2020, the US Securities & Exchange Commission expanded its definition of 'accredited investor' to allow more investors to participate in private offerings…
On March 15th, the new Crowdfunding rules went into effect, increasing the maximum issuers can raise from $1.07M to $5M…
And according to Crowdfunding Capital Advisors, over the next 12 months…
Over $1.2B will be invested in Regulation Crowdfunding
The number of offerings to increase 40% to 1,700
The number of investors to double to 800,000
Thanks to the updated crowdfunding exemptions…
There's about to be a Cambrian level explosion of private market investment opportunities available to retail investors like you…
And now, for the first time ever, the "little guy" has the opportunity to hunt for unicorns and invest in these exciting "emerging growth companies"…
Potentially have opportunity for stock market beating gains…
And the type of bragging rights for being a "private market investor" that you simply can't get anywhere else.
Sincerely,

Jake Hoffberg – Publisher
Equifund