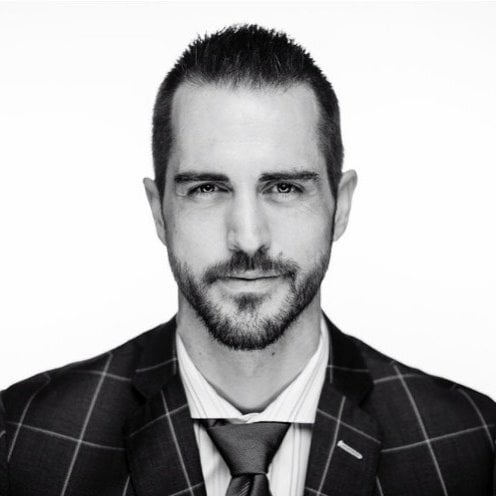 For decades, pretty much no one on Wall Street gave a hoot about the proverbial "little guy"…
But thanks to the unusual combination of pandemic lockdowns and FinTech trading apps…
Everyone – from mega funds to financial media outlets – is talking about what might be the most important trend in finance…
The Rise of the Retail Investor
On Thursday, we talked about a core concept for finding your "perfect investment opportunity"…
The Customer Shareholder Flywheel.
If you don't have time to read it, here are the main takeaways:
Many of the best companies in the world grow by turning their Customers into Shareholders and Advocates.
Thanks to The JOBS Act (i.e. equity crowdfunding), startups can build a Customer/Shareholder Flywheel that builds loyalty, excitement, and drives their business towards the public markets.
If you're looking for a way to get an edge as a private market investor, look for companies where you can become a Customer/Shareholder.
And as the entire world starts to wake up to the power retail investors have…
There's going to be a LOT more investment opportunities for educated investors (like our wonderful Equifund community).
For context, the Equifund team has been working with small-cap companies for more than three decades…
And our core skill set has been raising capital from retail shareholders.
Because eventually, all public companies need to attract retail shareholders to continue to grow.
Why? Because from the perspective of institutional investors who've been locked up in private market deals for longer than they'd like…
You – the retail investor – have always been their exit strategy.
You are the "end game" for the Wall Street insiders who've already squeezed out the biggest returns.
In the end, people like us – the so-called "little guy" – are someone else's opportunity to "get rich."
But thanks to the whole "meme stock" craze, we've started to see something in the markets that's changed everything…
Retail traders are fighting back – going long on heavily shorted stocks like $GME and $AMC – with the goal of forcing hedge funds to eat poo.

And almost overnight, the self-described "apes" saw once and for all the dirty truth about the stock market…
The price of a publicly traded stock has (almost) nothing to do with "intrinsic value" or "fundamentals."
Instead, it can be easily manipulated through coordinated effort.
Of course, all the hedge funds who lost billions were crying foul that the "poors" were winning using the same playbook they were using…
And when trading apps like Robinhood suspended trading of these "meme stocks" under somewhat nebulous circumstances…
…which wound up benefiting the short sellers at the expense of the retail traders…
It was a tipping point for – dare I say – the entire world.
The markets know how to handle fear and greed…
And the "masters of the universe" on Wall Street know how to use the media to manipulate the market using both weapons.
But what they don't know how to handle is the anger of millions of Americans who are tired of getting screwed.
And – perhaps more importantly – are tired of being locked out of the best investment opportunities normally reserved for the rich and powerful. Which, historically speaking, have been the opaque world of Private Equity (buyout funds) and Venture Capital.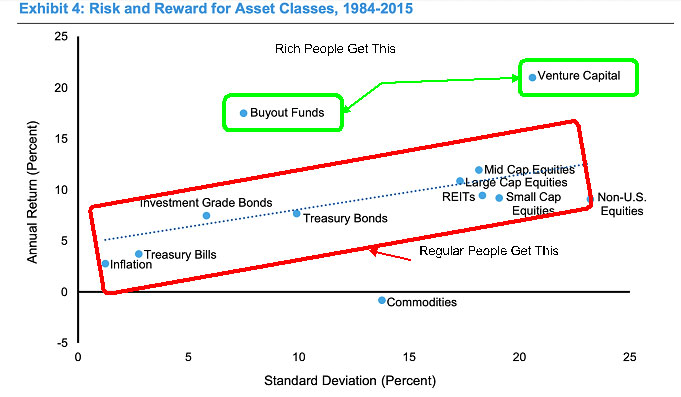 Thanks to The JOBS Act – and the birth of Regulation Crowdfunding – however, something extraordinary is starting to happen…
Instead of trying to beat Wall Street at a game that's heavily rigged in their favor (i.e. trading)…
We now have the tools to make a game that is designed for us – the "crowd" – to win.
As the wise Buckminister Fuller once said:
"You never change things by fighting the existing reality. To change something, build a new model that makes the existing model obsolete."
And with that ethos in mind, I'd like to give you a sneak peak at the new model we are building here at Equifund.
The Great Game of Private Market Investing
See this chart?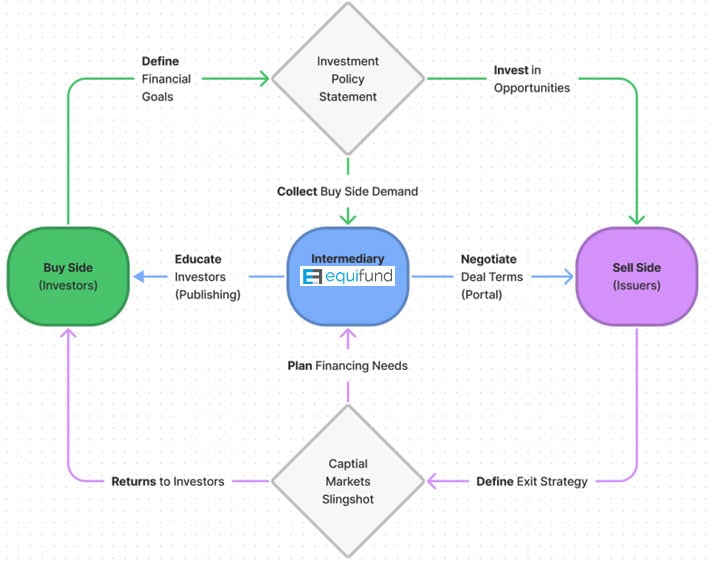 This is something I like to call "The Gameboard"…
Which, as it sounds, is the visual representation of the game being played.
In any game, there are three essential elements:
Players – How many players does the game support? And how do those players interact with each other?
For example, Solitaire is a single player game (1 player game vs the game system)
Games like Chess are a head-to-head game (1 player vs 1 player).
And card games like Bridge are team-based games (in this case, 2 players vs 2 players).
Objectives – What is the object of the game? What goals are the players trying to achieve?
Chess is a Capture/Destroy game where you must eliminate the opposing force to win.
The board game Clue is a Solve game, where the objective is to solve a puzzle.
The board game Settlers of Catan is a Build game (opposite of destroy) where the goal is to build your resources to a certain point.
And last but not least…
Rules – What constraints are put on the players?
There are three categories of rules:
Setup (things you do once at the beginning of the game)…
Progression of play (what happens during the game), and…
Resolution (what conditions cause the game to end, and how is an outcome determined based on the game state).
With that explained, let's talk about how this applies to the "game" of investing.
This game is a team based game with three types of players – Investors, Intermediaries, and Issuers.
There can be an unlimited number of Investors (people like you)… an unlimited number of Issuers (companies raising money)… and one Intermediary (Equifund Crowdfunding Portal).
The objective of this game is to Build great companies that solve hard problems… create great jobs… and provide long term wealth building opportunities.
The Rules are pretty simple…
In order to complete the Setup phase, Investors need to …
Define their financial goals
Open the required investment accounts
Determine how much money they have to invest, and
Disclose what types of opportunities they're interested in investing in.
With this goal in mind, Equifund, LLC publishes tools and training programs designed to help Investors understand how to do all of this (and more).
One of those tools is the Investment Policy Statement Generator (which we are planning to do a major upgrade on soon).
And on top of the free investor education we provide in our eLetter: The Private Market Investor…
We've held paid workshops all about managing deal flow and due diligence…
I – Jake Hoffberg – head up this initiative.
Armed with this Buy Side Demand Data… the Equifund Crowdfunding Portal (which is a separate entity than Equifund, LLC) looks for relevant investment opportunities.
Jordan Gillissie – our CEO – heads up this initiative.
Before any Issuer is allowed into the game they must…
Define their exit strategy
Determine their fundraising requirements
Disclose their timeline
This is the Capital Markets Slingshot, and it forms the basis of setting proper Valuation and Deal Terms.
Once the Setup is complete, now we move on to Progression of Play…
And finally, the Resolution happens when the company IPOs and Investors have the opportunity to exit their position if they wish.
This is an infinite game we can all keep playing together, for the rest of our lives if we choose!
We are committed to building a community where we can play a game where all of us can win!
But in order to do that, it means we need to recruit the right Players into our community.
This means we want Investors who are willing to learn the Rules of private market investing…
And are willing to share their Buy Side Demand Data with us so Jordan can negotiate better deals with Issuers.
If this sounds like a "fair deal" to play a "fair game" with us and our community…
Sign-up and join Equifund for free today!
Sincerely,

Jake Hoffberg – Publisher
Equifund