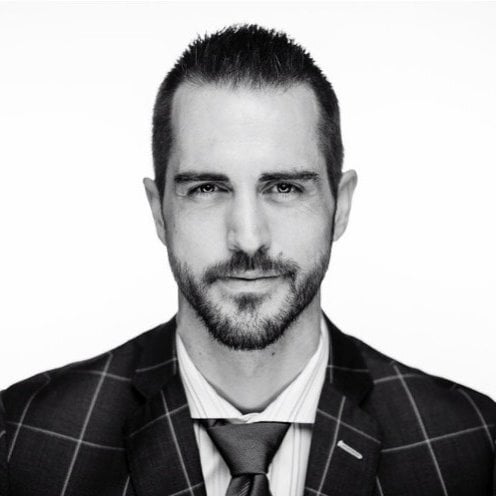 After 2020, it's no surprise to see global healthcare funding hitting new record highs…
In 2021-Q1, a total of $31.6 billion in total equity raised, with a record 96 mega-rounds ($100m+ raised). Not too mention a whole slew of digital health SPACs.
But now that COVID-19 vaccines are starting to roll out, the industry discussion is shifting towards the pandemic's long term effects.
Not surprisingly, telehealth has been a massive winner of the current health boom we're seeing right now…
And also not surprisingly, anyone involved with immunology or otherwise combating COVID-19 have done quite well for themselves…
But there's one important corner of the market most people haven't been talking much about this past year that they should be…
Breakthrough Medical Devices
Why? Because as much as we see the obvious implications for how "big data" + machine learning/artificial intelligence will transform basically everything…
There are two major problems with all of this data collection that's happening right now…
#1) How do you get the data in the first place (and is it accurate)?
Sure, we've seen the rise of the so-called "wearables" market (and I'm a proud owner of an Apple Watch and plenty of other consumer gadgets)…
But what about the tools the professionals use to diagnose medical conditions?
The better – and more affordable – these diagnostic tools are… the easier it becomes to improve patient outcomes through early detection and more accurate detection.
For those who are Star Trek fans, you might remember the famed Tricorder device that can diagnose any problem with any lifeform…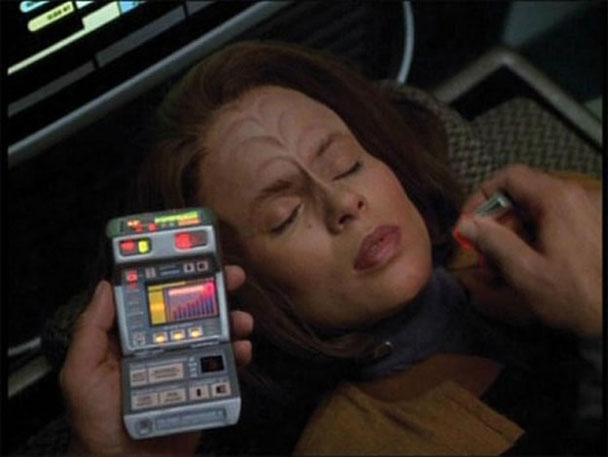 But…
#2) Once you have the data, what do you do with it?
Assuming the diagnosis requires some sort of treatment – like surgery – chances are, you're going to need some sort of medical device to assist with success rate.
But cutting people open and operating on them isn't exactly the most popular choice for most patients.
For example, open theatre spinal surgery would normally be an 8-hour in-patient procedure that would require…
Blood transfusions…
Damage the normal structures of the spine…
Lead to a high risk of infection due to the procedural invasiveness…
As well as a prolonged hospitalization and a long recovery…
But with minimally invasive surgical techniques that same patient could be looking at a 3-hour outpatient procedure that would use smaller, less damaging incisions that would reduce the…
Risk of infection…
Visible scars that open surgery would leave…
Amount of blood loss as part of the procedure…
Anesthesia required to keep him under…
And perhaps most amazing of all, he'd be out of the hospital within 36 hours instead of 4 days.
The minimally invasive surgery market was already worth $36.5 billion in 2018, and is expected to hit $58.2 billion in 2024…
But this market wouldn't be possible without innovation in medical devices and robotics.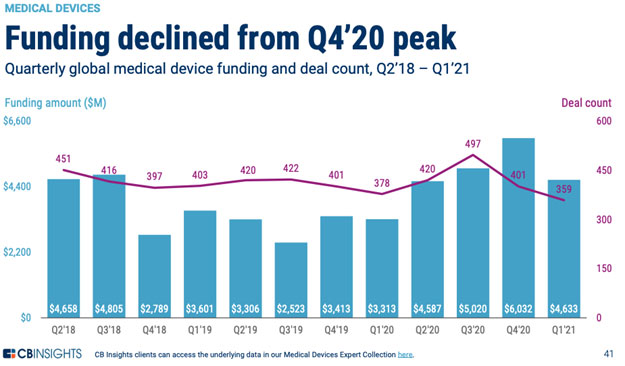 Although we saw a dip in funding activity in 2021-Q1, industry execs are optimistic about the return of non-COVID related procedures – which will likely drive the medical device market into 2021 and beyond.
According to Alex Gorsky, CEO of Johnson and Johnson…
"We remain very confident in the longterm prospects around the medical device market. We would expect to see continued impact certainly in Q1'21, although [based on] the early signs, we're encouraged by what we're seeing…We would expect to see expansion over the course of 2021, and beyond that, see a return to a market…growing in the mid single-digits."
And if this happens, it could be a great time to consider investing in the next generation of breakthrough medical technologies.
Looking for some helpful guidelines for finding the right opportunities?
According to Ernst and Young, there are four future business model approaches that medtech companies can adopt to "futureproof organizations and to enable effective deployment of limited capital resources."
They are:
Breakthrough innovator. Companies that adopt this model develop products and services that carry high prices. They are typically paid for by traditional health insurance. Such innovative technologies include Intuitive Surgical's famous da Vinci platform.
Disease manager. These are personalized solutions that help end-users manage chronic conditions in a bespoke way. The focus is on user experience, convenience, and maximum adherence. Examples include Medtronic's smart insulin pen, dubbed the InPen.
Lifestyle manager. These companies develop products that are aimed at maintaining overall health and wellbeing, as well as encouraging behaviours that can help to prevent disease. Their products are marketed directly to the consumer. Examples include wearables such as the Apple Watch as well as Fitbit's smartwatches and trackers.
Efficient producer. These companies are the developers or providers of high-volume, low-cost commodity products. Such products include protective personal equipment (PPE) and ventilators.
We'll be tracking this exciting opportunity this year and look forward to bringing you more insights into this growing space.
Sincerely,

Jake Hoffberg – Publisher
Equifund