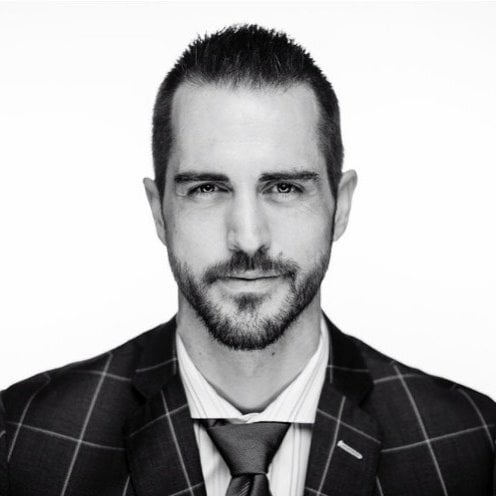 Given the current state of the world, it's easy to imagine that people would be spending less on premium food and beverage products.
But the data tells a far different story. According to research firm IRI Worldwide…
Despite ongoing economic uncertainty, anticipated recessionary spending behaviors, including an increase in spending on private label and value brands, as well as a shift to value channels, hasn't occurred to date.
Lower-income households have maintained higher growth in at-home CPG consumption than other income levels throughout the pandemic.
Shoppers are trading up in grocery and other large format channels, with premium / super premium products gaining share at the expense of value tier and private label.
Both high and low-income shoppers are trading up in many categories, including food and beverage, cleaning and personal care.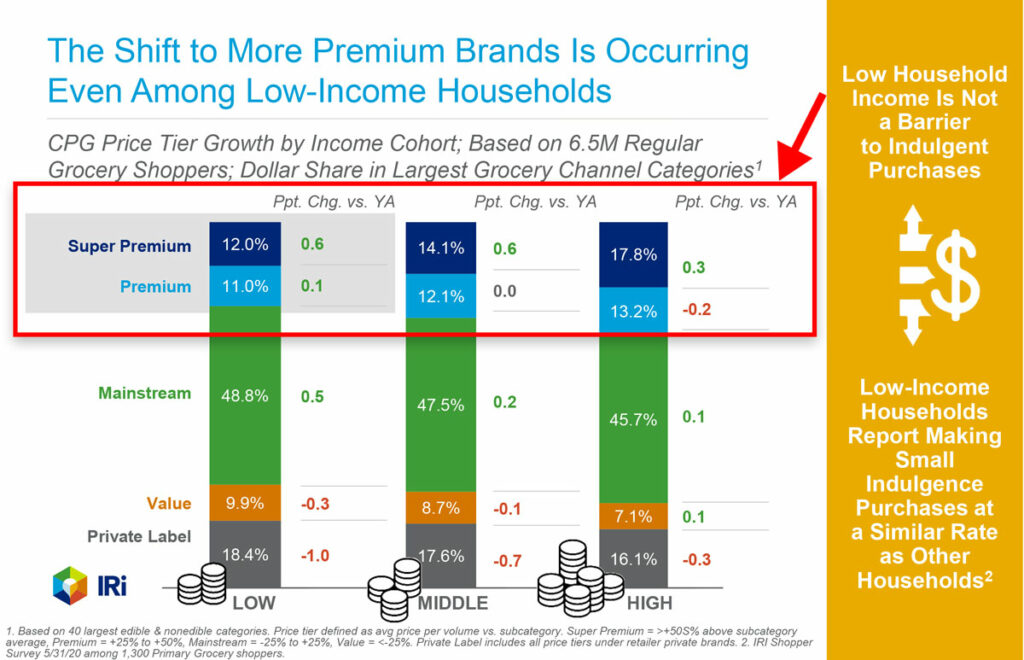 Despite economic turbulence, premium brands are growing across all households, even low-income households.
Put another way, not even a global pandemic can stop the rise of premium branded products!
In fact, it likely boosted the demand for products with premium attributes – health and wellness, immunity, hygiene, indulgence and convenience.
But perhaps the biggest case for premium foods is the massive revenue numbers they can achieve: up to 4x the price for what is essentially a commodity.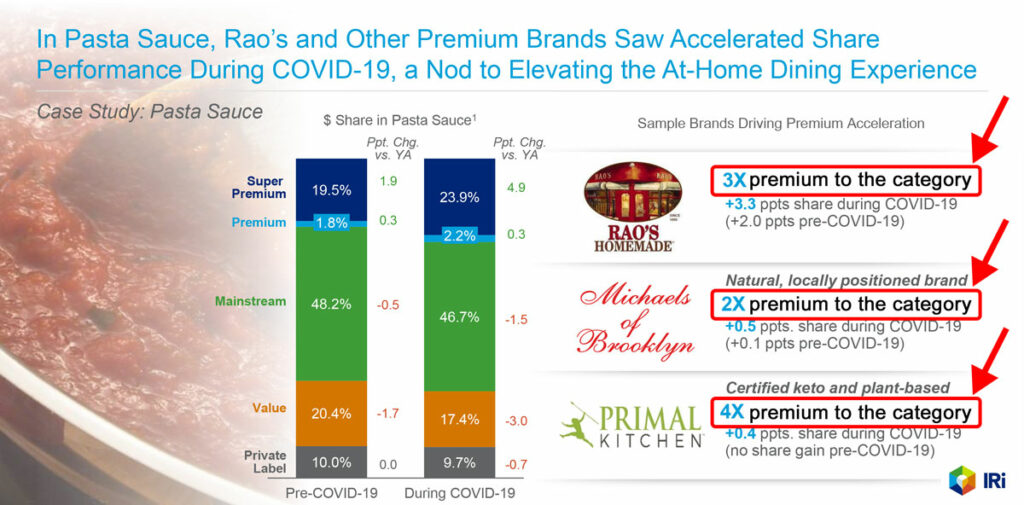 In Pasta Sauce, Rao's Homemade sells for a 3x premium to the category, while Primal Kitchen sells for a 4x premium.
And with that extreme pricing power, it means premium brands can achieve enormous scale in ways mass market products simply can't.
According to the Hartman Group…
"Successful premium food and beverage brands can generate as much revenue per point of household (HH) penetration as 100-year-old legacy food brands selling to far more households."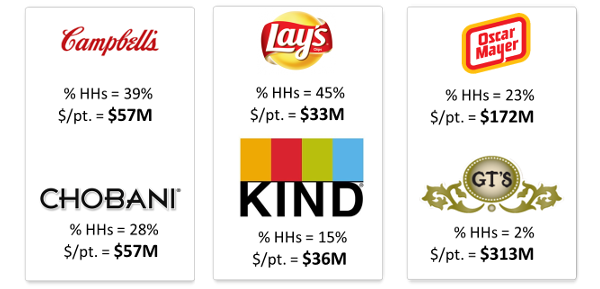 Premium brands are outselling mass market brands with far lower household penetration numbers, providing a key source of growth for incumbents searching for growth
The largest premium brands, selling $400M+ annually, have an average HH penetration of only 16%, far lower than large legacy brands.
Crazy enough, a company can even reach $1B in sales without hitting one-third of American households; the key to success is scaling within niches to create disruptive products that create brand loyalty.
Which brings us to the most important question when considering an investment in a premium food or beverage company…
How do markets think about consuming food/bev products?
Again, from the Hartman Group, it comes down to something called "Eating Occasions by Daypart."
There are a total of eight different eating occasions each day…
Early Morning Snack
Breakfast
Morning Snack
Lunch
Afternoon Snack
Dinner
After Dinner Snack
Late Night Meal / Snack

80% of all U.S. households eat dinner.
And if you're looking at any food/bev deal, the first thing we want to do is get an understanding of who the company thinks their target market is…
What Eating Occasions are they participating in already…
And what is the company's plan for entering into that segment effectively.
For example…
Do they need to get the consumer to eat during a Day Part they normally don't?
Does it replace a product they normally eat during that occasion?
Does it compliment a product they already consume? And…
Is it a product in a category they already eat, or is it a new category the customer hasn't tried yet (i.e. fad diets and health foods)?
Of the 8 eating occasions each day, dinner is – by far – the most eaten meal across all consumer segments surveyed.
And before you think time-strapped Americans are going to be cooking more meals (instead of buying food products) now that they're home more often…
At the time of writing, 49% all meals eaten in America involve no preparation at all… and it's close to 67% if you include microwaving as an option!
What does this mean for investors interested in food and beverage brands?
First, start off by taking a look at your personal Eating Occasions.
Which ones do you eat during? How about your friends and family?
What types of food/bev products do you like to buy?
Do you like to try new things? Or do you have favorites that you go back to over and over again?
And more important, do you personally like the product and would you recommend it to others?
Which, if you ask me, is one of the best parts about investing in consumer packaged goods.
Unlike other types of deals where you'll probably never be a customer of the business…
You can be a "secret shopper" and see what the shopping experience is like… what the product quality is like… and how the customer service is.
Of course, you'll want to do your due diligence so you understand the market opportunity and the deal terms…
But at the end of the day, we all want to invest our money into great businesses run by great managers who treat their customers right and have a great product.
Sincerely,

Jake Hoffberg – Publisher
Equifund