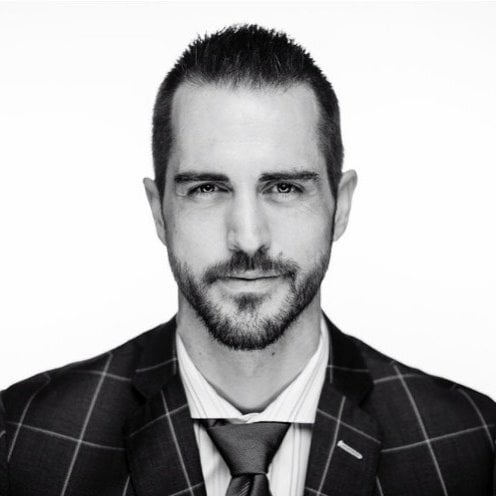 If you're one of the people who are looking to invest in cutting edge technology…
The 2020's could be the most important decade in the history of investing.
But in my opinion, the most exciting breakthrough technologies aren't the ones most regular investors are focused on.
Don't get me wrong, there's a lot to love about blockchain, battery technology, and sharks with laser beams attached to their foreheads.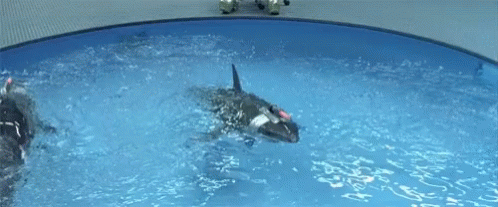 Sharks with laser beams attached to their foreheads in "Austin Powers in Goldmember" .
But when it comes to solving the global healthcare crisis (that shows no signs of slowing down), I'm looking with eagle eyes into…
The Cutting Edge of Life Sciences
For investors looking for the chance to support – and potentially profit from – companies working on pain relieving, life-saving, or life-extending technologies…
Life Sciences – which is is a catch all for anything and everything related to medical devices, pharmaceuticals, or health care – is probably a sector you'll enjoy learning about.
Not to mention the fact that the global pandemic has reignited interest from investors everywhere…
Especially in the normally hated-by-VCs medical device category!
Funding rebounded from Q1'21's dip to surpass $8.2B across 396 deals, a more than 70% Quarter over Quarter increase.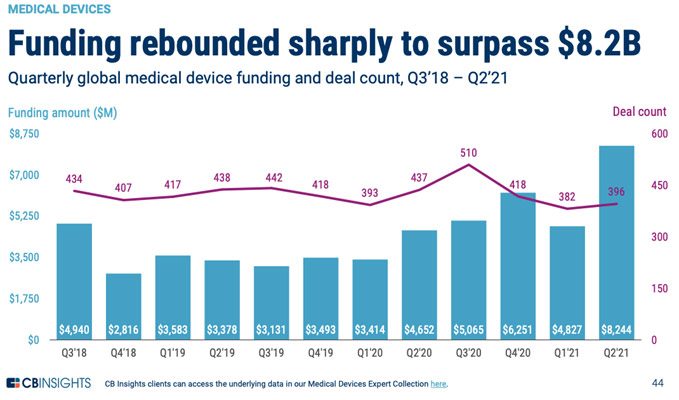 State of Healthcare Q2'21 Report: Investment & Sector Trends to Watch, published by CBInsights
And some of the most sought after medical device companies have been in the literal cutting edge: Surgical devices.
CMR Surgical – a surgical robotics company – raised a $600m Series D in June, 2021, making it the second largest healthcare deal last quarter.
But it's not just private investors who are interested…
We've been seeing the major players in MedTech make big moves in the surgical devices sector – especially in the $10bn global spine market – over the past few years.
In November of 2016, Zimmer Biomet (NYSE: ZBH) – a global leader in musculoskeletal healthcare – completed their $1bn acquisition of LDR – maker of cervical disc replacement devices – in order to strengthen it's spine division.
In June of 2019, Medtronic (NYSE:MDT) completed their acquisition of Titan Spine for an undisclosed amount.
And in November of 2019, Stryker (NYSE: SYK) completed their $1.4bn acquisition of spinal surgery device maker K2M Group Holdings.
But perhaps the true "starting pistol" driving my bullish sentiment on spinal focused medical devices companies?
On Feb 5th, 2021, Zimmer Biomet announced they are spinning out their dental and spine business into a new publicly traded company called ZimVie.
For those who don't know much about spin-outs, usually, management only does it when they feel like it will create more shareholder value with the assets separated.
According to a company press release from Feb 05, 2021:
[We] will be well-positioned in the $21 billion combined global Spine and Dental markets that benefit from attractive fundamentals.
And while everyone else is talking about the latest "memestock" or cryptocurrency (and are probably too late to get in)…
If you're the kind of person who likes to be on the cutting edge of technology, now might be the perfect time to consider investing in medical device companies that can help deliver…
Better healthcare outcomes at lower prices!
Let's not mince words. Healthcare costs are spiraling out of control and something needs to be done about it.
This likely means more innovative medical device companies will need to be funded – and successfully commercialized – if we're going to tackle the problems we face with our aging population.
But launching new medical devices isn't easy. It requires time, money, clinical data, regulatory approval, and crucially, support from clinicians within the system.
The visionary founders aren't the "tech bros" of Silicon Valley…
They're practitioners who are building and implementing new solutions that attempt to create "win-win-win-win" solutions for the patients, healthcare providers, payers, and investors
Sincerely,

Jake Hoffberg – Publisher
Equifund